Grenada Tropical Cottages & Bar "Lazy Lagoon"
If you would like to enjoy your Grenada vacation and you are on a budget, would like to stay in a tropical cottage close to transportation to the beach and everywhere else, then look no further, you've found us!
Lazy Lagoon is opposite 'the' Lagoon, a picturesque ex-crater, now one of Grenada's yacht harbours, with a superb view of the capital. It is not in a touristy area, but is a short walk from the main Grand Anse - St. George's road (20 minutes' walk / 5 minutes bus to St. George's:
Lazy Lagoon Tropical Cottages offers you:
Simple and practical cottages looking out over a sheltered natural harbour with a striking backdrop formed by the Georgian brick & fish-scale tiled buildings of St.George's, recognised as the prettiest town in the Caribbean.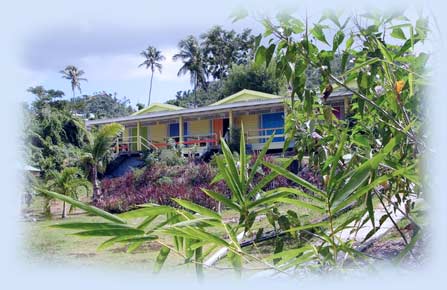 Lazy Lagoon consists of a single block of six wooden cabins, each of which are fully equipped, with a queen-sized bed or two twin-sized beds, and a bathroom with shower.
There is also a kitchenette with a stove, some pots and pans and a refrigerator - we can even stock that one with cold Carib beers before you get here.

The three-pane door unfolds on the balcony, where you can sit in the breeze, relax and enjoy the view. Or you can join us at our delightfully informal Cafe Bar.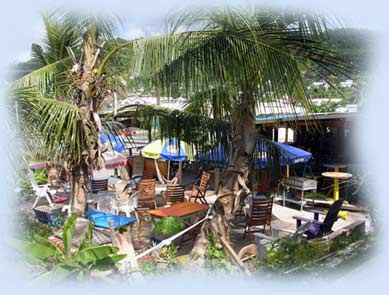 Lazy Lagoon Bar
The bar on site is loacted half way between the rooms and the road, amid the landscaped gardens. Join us and enjoy one of our cocktails or a nice cold Carib beer. The perfect place to while away the day and enjoy the camraderie of the regulars.

Snacks are also available at the bar, with entertainment during the night, and an occassional barbecue.

Contact us for more information:
P.O.Box 1451, Lagoon Road, St.George's, Grenada, W.I.
Tel.: (473) 443 5209 - E-Mail: lazylagoon@caribsurf.com